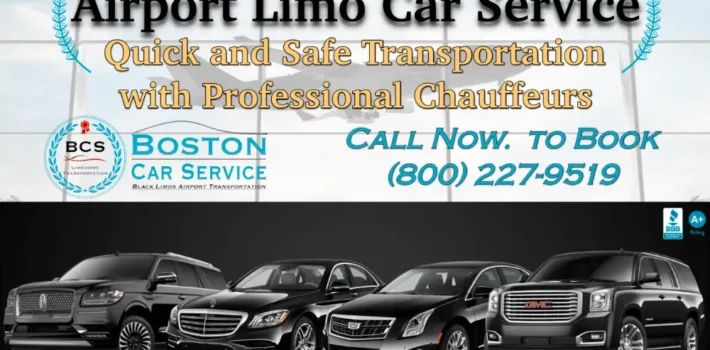 Boston Airport Limo Car Service at the Logan Airport. Book A Round Trip Black Limo Car Service with Private Chauffeur from Any Airport of Massachusetts.
Our Boston Professional Chauffeur will Use signature at airport for shuttle rental limousine that will transport you to and from the airport on time. Privileged service, guaranteed.
From the moment you book Boston Car Service, we make sure your limo ride is the most delicate and comfortable ride you'll ever take. We guarantee our services at the right time. We take this commitment, of which we are proud, very seriously.
Our limousine Service in Boston take you wherever you want, to or from Logan Airport and surrounding airports in Rhode Island or Connecticut. There is no too short or too great a distance for us.
What we offer you as Boston Airport Limo Car service:
Luxurious and most comfortable Limo Car Service. Our Best Black Limo Airport Car Service are at the cutting edge of the sector. We have a reputation for providing the utmost in luxury and service excellence. You can count on the excellence of our services for all your trips.
Reliable schedules. Our private drivers are able to assess the route so that you arrive on time, even at peak times. By choosing our services, you are sure not to miss your flight and not have to wait.
By Considering Flexible hours. We will welcome you upon your arrival and departure with a broad smile, ready to open the doors for you. Our Chauffeur Limo Service can even meet you at the terminal any time of your flight and help you collect your luggage.
Handpicked and Efficient Chauffeurs:
Flight surveillance. Knowing that your time is precious, we track your flight information so you don't have to wait for us. Your satisfaction is our main concern.
Travel is a cause of fatigue, not to mention stress on certain occasions. So why do you bother finding a car? Leave it to us to do it for you. Whether it's leisure or business, our customers are our top priority. We can get you to the airport of your choice as quickly as possible.
Sit back and relax as our experienced drivers accompany you with distinction to or from the airport. We assure you that with us traffic will be fluid so that everything runs according to your schedule and that you arrive or leave on time for your flight.
Whether it is a business, corporate or personal trip, we extend a warm welcome and princely treatment to our customers with the utmost attention. We answer your calls 24 hours a day, 7 days a week.
Easy Online Booking:
Quick and easy reservations. Our reservation services are the fastest and most reliable in the industry. Just fill out the form on the right or give us a call and we'll meet your needs. Just Follow our Booking Form for Book Boston Limo Car Service
For Quick Booking Call us @ (800) 227-9519