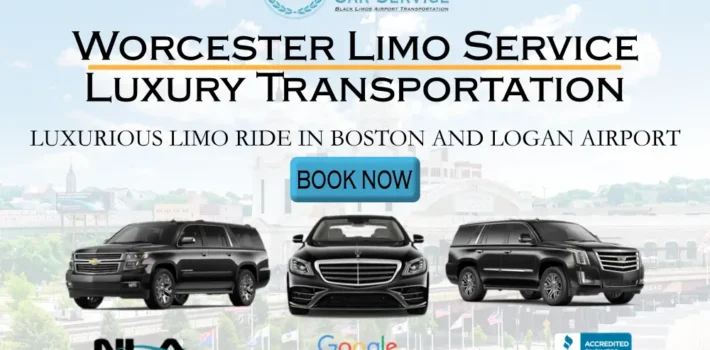 Do you wish to travel in luxury and style to your destination? To guarantee that you get to your event on time, are you looking for a reputable transportation service? The Worcester Limo Service is the only place to go! From weddings and proms to business trips and airport transfers, our premier and professional limo service is available for all events.
When you use Limo Service Worcester MA, you can count on excellent customer service, knowledgeable drivers, and a fleet of impeccably kept vehicles. We pledge to deliver flawless service from beginning to end since we recognize how vital punctuality and dependability are in the transportation industry. Therefore, unwind while Boston Car Service handles all your transportation requirements.
Worcester Limo Service to Logan Airport
Consider using an airport limo Worcester MA if you're seeking an easy and luxury method to travel from Worcester to Logan Airport. You won't have to deal with the inconvenience and stress of parking or driving to the airport when you choose a Worcester limo service to Logan airport.
You will be picked up at your door by a skilled limo driver who will drive you directly to Logan Airport without any delays or detours. In addition, you'll appreciate the luxury and comfort of a limousine, whether relaxing, taking in some music, or drinking something cool.
Worcester Car Service for Special Occasions
When it comes to special occasions, Worcester Limo Service can give any occasion a dash of opulence and sophistication. You can select from various vehicles with Car Service Worcester MA to suit the size and theme of your event. Consider renting a vintage stretch limousine or a good sedan for a small event or romantic evening. Choose a roomy SUV or limo party bus with lots of space for guests for larger gatherings or weddings.
Whatever kind of event you're organizing, Worcester Airport limo service can offer dependable transportation with experienced drivers who will make sure you get there on time and safely. While making use of the conveniences and facilities of riding in style, you may unwind.
Corporate Travel with Worcester Car Service
Time is money in the business world. Because of this, many people select Worcester Car Service for our business travel requirements. Boston Executives can concentrate on their business and show up for meetings rested and ready to take on the day when we have a dependable and experienced chauffeur behind the wheel.
Sedans, SUVs, and limousines are just a few of the cars Limo Service Worcester MA has available that are appropriate for business travel. To meet their needs, businesses can select hourly or flat-rate packages, ensuring we stay within budget while receiving excellent service.
However, Worcester Airport Car Service also provides transportation services. We also offer services like Wi-Fi and bottled drinks so businesspeople can keep working while traveling. Corporate travel is no longer a nuisance with Limo Rental Worcester Service but rather a chance to increase productivity.
Advice for Getting the Most Out of Your Limo Service Worcester MA
There are a few guidelines you can adhere to make sure everything goes according to plan when it comes to receiving the most incredible experience from a Worcester limo service. In the first place, be sure to reserve your limo service well in advance. Doing this will make you confident that the business is available and can meet your needs. Additionally, be sure to adequately express your expectations to the Boston Car Service provider so we can give you the best experience possible.
Dress correctly for the occasion to make the most of Car Service Worcester MA. It's important to dress appropriately and avoid anything too casual or exposing if you're going to a formal event or wedding. To ensure you reach your destination on time and without worry, provide extra time in case of traffic or unforeseen delays.
Consider adding entertainment alternatives like music playlists or an excellent book to maximize your Worcester Airport limo service experience. Asking your driver about nearby landmarks or attractions is also a good idea; we frequently have helpful advice to improve your trip.
Why You Should Use a Airport Transportation Worcester MA?
There are numerous options accessible when it comes to transportation. However, there is nothing like a Worcester limo service if you want to travel elegantly and comfortably. Here are some advantages of using a Worcester limousine service for your transportation requirements.
Professional and Trustworthy: You may anticipate dependability and professionalism from a Limo Service Worcester MA. Your safety on the road is guaranteed by the drivers' extensive training and experience in providing first-rate Boston Coach transportation services.
Elegant and welcoming: The sensation of riding in a Worcester limo is unmatched. These high-end cars include luxurious interiors with leather seats, climate control, entertainment features like TV screens, and sound systems that let you unwind or conduct business while driving.
Convenience: A Worcester Airport limo can offer door-to-door service, enhancing the comfort and convenience of your trip. You may relax and take the journey without worrying about managing the traffic or finding parking.
Affordability: Contrary to what many people believe, using a Car Service Worcester MA is more economical than you might expect. Using a limousine can be more affordable while providing a luxurious experience compared to other high-end modes of transportation like private jets or helicopters.
These are only a few advantages of using a Worcester Limo Service for your upcoming trip or special event. Arriving at any occasion in regal fashion will make an impact.