Finding the best way to reach Gillette Stadium in Foxborough, Massachusetts, for that much-anticipated game or concert can significantly impact your overall experience. While many options are available, such as public transportation and ride-sharing services, neither compares to the exclusivity of a limo ride.
A limousine service exemplifies both style and convenience. It offers door-to-door service from any location directly to Gillette Stadium. With professional chauffeurs who know the ins and outs of Massachusetts' roads, you avoid navigating through traffic or finding parking spaces on busy event days.
Moreover, traveling by Limo means you arrive punctually for your event without worrying about logistics. Whether you're local or a tourist looking to enjoy an event at this iconic venue, choosing a car service Boston provides an unmatched travel experience. The journey becomes part of the event itself!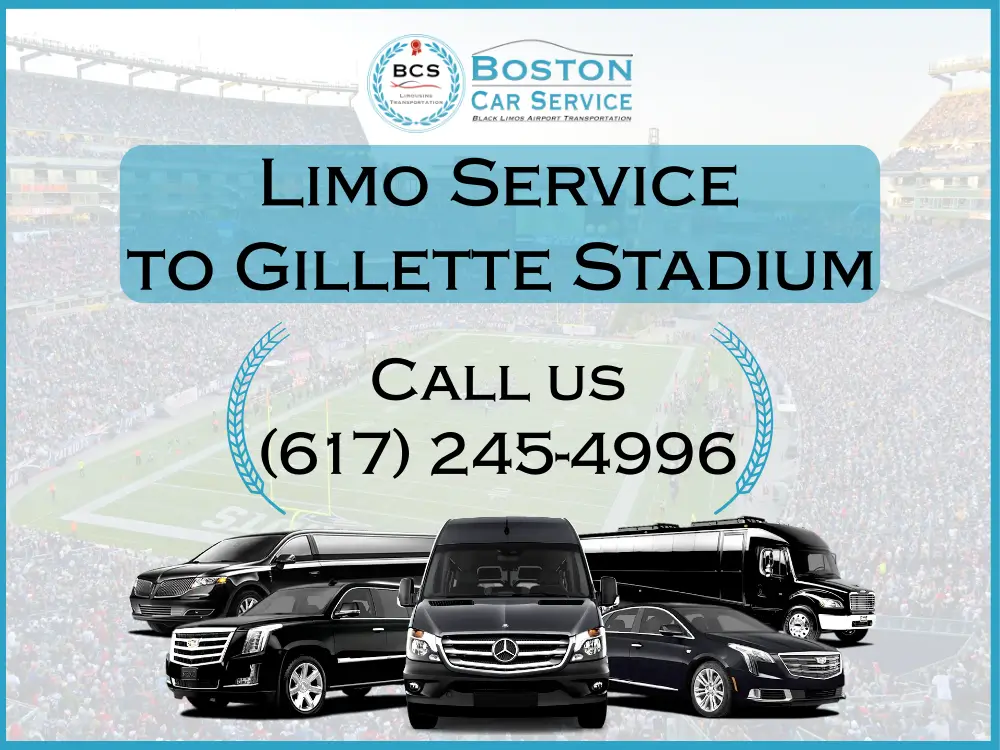 Why take a limo to Gillette Stadium?
Why take a limo to Gillette Stadium? There are several reasons why opting for a limo is the best way to get to this iconic Massachusetts venue.
First and foremost, taking a limo adds an element of luxury and style to your journey. Imagine arriving at the stadium in a sleek and elegant vehicle, turning heads as you step onto the red carpet. It's an experience that will make you feel like a VIP from start to finish.
But it's not just about appearances. Choosing a limo also offers practical benefits. You don't have to worry about parking or navigating through traffic – your experienced chauffeur will take care of all that for you. This means more time to enjoy the pre-game excitement with your friends and family.
Another advantage is the convenience of door-to-door service. You can relax knowing your ride will await you after the game ends, ensuring a stress-free return journey home.
And let's not forget about safety! With professional drivers behind the wheel, traveling in a limo provides peace of mind knowing you're in good hands on the road.
So next time you head to Gillette Stadium, consider booking a limo for an unforgettable experience filled with comfort, convenience, and sophistication.
What are the benefits of taking a limo to Gillette Stadium?
One of the best ways to enhance your experience at Gillette Stadium in Massachusetts is by taking a limo. It adds a touch of luxury and style to your journey, and several benefits come with hiring a limo for your trip.
Convenience is a major advantage. With a limo service, you don't have to worry about driving through traffic or finding parking at the stadium. The professional chauffeur will handle all these hassles, allowing you to relax and enjoy the ride.
Safety is paramount when attending large events like games or concerts at Gillette Stadium. By opting for a limo service, you can ensure that you have a designated driver who is experienced and knowledgeable about the routes in Massachusetts.
Additionally, traveling in a limo provides comfort and space for everyone in your group. Limo interiors are designed with plush seating and ample legroom to sit back and unwind during the journey.
Furthermore, arriving at Gillette Stadium in an elegant limousine makes a statement. It adds an element of sophistication and sets the tone for an unforgettable experience.
In terms of cost, while hiring a limo may seem expensive initially, compared to other transportation options like taxis or rideshares for larger groups, it can be more economical per person.
Taking a Car Service to Gillette Stadium offers numerous benefits, including convenience, safety, comfortability, and a stylish entrance. It's worth considering if you want to elevate your game-day experience!
How much does it cost to take a limo to Gillette Stadium?
Switching gears a bit, let's talk about the cost aspect. How much does it take to ride a limo to Gillette Stadium? The answer isn't as cut and dry as you might think because several factors explain this.
The distance from your pickup location to the stadium and how many hours you'll need the service are factored in. Following that, the type of vehicle plays a significant part, too – a stretch Hummer would be more expensive than a classic Lincoln Town Car!
On average, though, for an event like a Patriots' game or concert at Gillette Stadium, expect to spend anywhere between $300-$800 for roundtrip limousine service. Higher-end luxury options naturally tend toward the upper end of this spectrum.
Remember: price shouldn't be your only consideration when booking transportation services such as these! Dependability and quality of service are equally important, if not more so – after all, who wants any hiccups on their big day out?
Taking a limo to Gillette Stadium brings comfort and convenience together in one stylish package. Whether avoiding parking nightmares or making grand entrances on special occasions – it's undeniably worth every penny spent! So next time you head over there, don't forget; opt for style AND substance by hiring that perfect Boston Limo Service.