Welcome to New England's bustling and picturesque region, where history meets charm, and every corner exudes a timeless elegance. Whether visiting for business or pleasure, navigating through this captivating area can be quite an adventure. That's why it's no surprise that many travellers turn to the convenience and luxury of New England limo service. With our impeccable fleet of cars and professional chauffeurs, we offer a seamless way to explore all this enchanting destination offers.
What is New England Limo Service?
New England limo service is a premier transportation option that caters to discerning travellers seeking comfort, style, and reliability. It goes beyond your typical car rental or taxi service by providing a fleet of luxurious vehicles operated by professional chauffeurs who prioritize customer satisfaction.
With Boston Car Service, you can expect an elevated level of sophistication from the moment you step into one of our sleek and meticulously maintained vehicles. Whether you're attending a special event, need airport transfers, or want to explore the region in opulent fashion, these elegant rides are designed to exceed your expectations.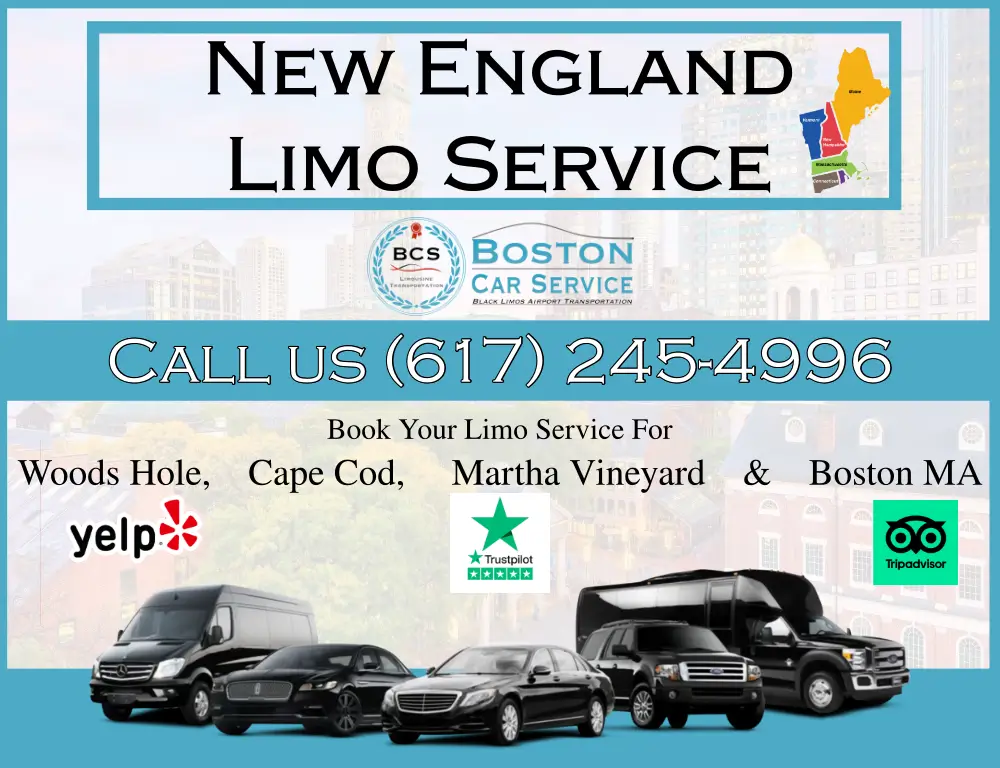 The Different Types of New England Car Service
Several different types of limo services are available in New England, catering to various needs and preferences. Whether you're planning a special event or simply looking for a luxurious mode of transportation, there's sure to be an option that suits your requirements.
We have the classic stretch limousine, which is perfect for parties and larger groups. These vehicles typically feature plush seating, entertainment systems, and even mini-bars.
A luxury sedan may be the ideal choice if you're travelling with a smaller group or prefer something more intimate. These sleek and stylish vehicles offer comfort, privacy, and all the amenities you would expect from a first-class experience.
Pros and Cons of Car Service New England
There are several advantages to opting for a New England car service Boston. We offer convenience and comfort. Travelling in a luxurious limousine lets you relax and enjoy the journey without worrying about traffic or parking.
Another benefit is the professional chauffeurs provided by New England limo services. These drivers are experienced, knowledgeable, and well-trained in providing excellent customer service. They know the best routes to take and can easily navigate busy streets.
However, choosing a New England car service also has some potential drawbacks. One disadvantage is the cost. Limousines are more expensive than other transportation options, such as taxis or rideshares.
Additionally, availability may be limited during peak times or popular events. It's essential to book your reservation well in advance if you have specific dates or times in mind.
Some people may feel uncomfortable being driven around rather than going alone. This loss of control can be off-putting for those who prefer being behind the wheel.
What are the rates for the Black Car Service?
When it comes to the rates for New England limo service, there are a few factors that can influence the overall cost. The first factor is the type of limo you choose. There are various options, from sleek sedans to spacious SUVs and luxurious stretch limousines.
Another factor that can affect the rates is the duration of your rental. The pricing will vary accordingly if you need a limo for a few hours or an entire day.
The distance travelled is also considered when determining the price of hiring a limo service in New England. If you're planning to travel long distances, mileage charges will likely be added to your bill.
It's important to note that while luxury comes at a cost, many people find it worthwhile for special occasions or corporate events where arriving in style makes all the difference. However, if budget is a concern, there are often more affordable options available within each category of vehicles.
To get an accurate quote and understand all potential costs involved with New England car service, it's best to contact reputable companies who can provide detailed information about our pricing structure and any additional fees that may apply.
How to book Limo Service
When you know the steps, booking a limo service in New England is a breeze. Whether you're planning a special event or want to add a touch of luxury to your limo transportation, here's how you can easily book New England car service.
Provide us with all the necessary details, such as date, time, pick-up location, drop-off location, and any specific requests you may have.
Next, inquire about our availability and ask for a price quote based on your requirements. It's always wise to compare quotes from multiple providers to ensure you get the best value for your money.
After reviewing the quotes and confirming availability, it's time to make your booking. Double-check all the details provided before finalizing your booking. Confirm we have noted all your requirements, including pick-up times and locations.
So why settle for the ordinary when the extraordinary awaits? Book your next ride with New England limo service and elevate your travel experience today!